Publications
Boffin Media's writing projects range from editing and producing magazine content to consultancy and website copy. Our executive producer, Richard Hollingham, is a feature writer for the BBC Future website. Here's an example of one of his recent articles.

Since 2004, we have been researching, writing and editing Space UK magazine for the UK Space Agency. We have also produced Blue Marble magazine for the National Centre for Earth Observation, regular features for Airbus, Earth-i and booklets and magazines for Rolls Royce, the British Antarctic Survey and Surrey Satellite Technology Limited.

Wally Funk's Race for Space
The Extraordinary Story of a Female Aviation Pioneer

Order here.

"Wally Funk's story is a textbook study in indefatigable, American, can-do spirit." The Guardian

"Fascinating and poignant … puts the story of women in space front and centre." Dallas Campbell

"A wonderful, vivid portrait of Wally Funk that explores the crucial part women have played in space exploration." Libby Jackson, author of A Galaxy of Her Own

"A charming window into the life of an extraordinary woman." Angela Saini, author of Inferior

"Inspiring ... I am in great admiration of Wally Funk who showed tremendous courage and determination at a time when the world of space flight was dominated by men." Jan Wörner, Director General of the European Space Agency
.

Blood and Guts: A History of Surgery
"Both pictures and stories are grisly but impressive." Financial Times

An engaging mixture of historical anecdotes, and up-to-date scientific thinking, Blood and Guts: A History of Surgery, turns scientific complexities into a colourful narrative history of the macabre world of surgery. This is a chronicle of stolen corpses, medical fraud, lobotomised patients…and every now and then courageous medical advances which have saved the lives of millions around the world.

As well as the UK, the book has now been published in Brazil, Russia, Poland and the United States. Read an extract in The Mail on Sunday.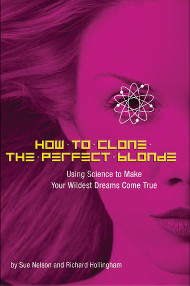 How to Clone the Perfect Blonde
"Short, lively entries tell you all you need to know about cyber monkeys, cosmic whirlpools, monster mice and, vitally, how to lose your love handles. This book will give you much to blather about in the pub." The Times
Richard and Sue are the authors of the popular science book How to Clone the Perfect Blonde, longlisted for the Aventis Science Book Prize as one of the top fifteen science books of 2004. It was also book of the month in the US Popular Science Magazine.